Women's Pearls of Collective Wisdom of Transformation Ongoing Group Forming - Bellevue

with
Susan Burns MA LMHC

Monday, March 15, 2010

Clinical Associates
2370 130th Ave NE Ste 106
Bellevue, WA 98005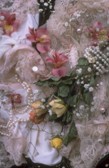 Many women are struggling with how to help others through changes and shift consciously with their own, as well as longing for a mutually supportive learning community. I have been requested by a number of women who are interested in diving into spiritual material and doing process work to host a regular meeting here in Bellevue, devoted to consciousness and transformation. The first meeting will be a discussion which invites your input for on going work together. If you are interested in joining this regular meet up group, please contact me, Susan Burns at 425 881-9000. The first meeting is on Monday, 3/15 at 7 PM.